JF Hull maintains third party certification of its integrated Quality, Safety and Environmental Management System and is committed to the safe delivery of all construction projects.
SAFETY
With wholehearted commitment to safety, it is our aim to develop and maintain a safe working environment that minimises the risk to the health and safety of all people on our project sites including employees, subcontractors, third parties and the general public.
JF Hull maintains a Safety Management system in accordance with ISO 45001:2018 which is audited annually by Certifi International.
Our Safety Management system is also accredited by the Office of the Federal Safety Commissioner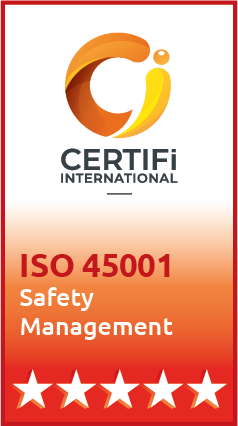 QUALITY
JF Hull takes pride in the quality of the works delivered, and places great importance on client satisfaction. Our approach has always been to "make it right the first time".
We operate under a Quality Management system conforming to ISO 9001, audited annually by Certifi International
ENVIRONMENT
JF Hull are committed to ensure all work is carried out in accordance with the relevant environmental legislation and contractual requirements, whilst maintaining minimal impact on the existing environment.
Our Environmental Management System operates under ISO 14001 and is audited annually by Certifi International.